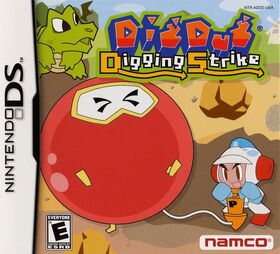 Dig Dug: Digging Strike (ディグダグ ディギング ストライク), Dig Dug DS for short, is a game from the Dig Dug series released for Nintendo DS in 2005. Taizo Hori goes to Horinesia to stop the underground monsters that awakened when the people in the area were digging for fossils.
External links
Edit
Ad blocker interference detected!
Wikia is a free-to-use site that makes money from advertising. We have a modified experience for viewers using ad blockers

Wikia is not accessible if you've made further modifications. Remove the custom ad blocker rule(s) and the page will load as expected.