Namco Wonder Eggs (ナムコ・ワンダーエッグ, Namco Wonder Eggs?) is a theme park in Japan. The park was opened in February 1992 in Futakotamagawa, in Setagaya, Tokyo. In July 1996 the park was renewed and reopened as Wonder Eggs 2, and later as Wonder Eggs 3 in 1999. The park was closed down in December 2000 and redevelopment of the site began in Spring 2007. As of 2010 the site of the park remains an apartment complex.
Goddess Eruzu
Pirarisu - Has four categories based on Roger Caillois' Man, Play and Games:

Agon - Competition.
Alea - Chance.
Mimicry - Simulation.
Ilynx - Dizziness.

Devil Godot
Attractions
Edit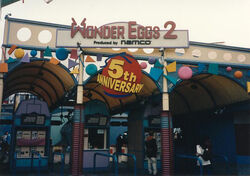 Wonder Egg Zone
Edit
Dragon's Castle
Edit
The Tower of Druaga - A ride attraction where the users try to shot monsters with infrared LED guns. It was moved from the Expo '90 in Osaka to the park alongside Galaxian³.
Magical Illusion - House of mirrors. Renovated as "Mirrorna's Psychological Labyrinth" in 1993.
Hotel Ghost - Haunted house. Renovated as "Hotel the Hell" in 1995 and "Hotel Murder House ~Zombie Bride~" in 1997.
Möbius Creek - A boat tour around the park.
Factory of Time
Edit
Galaxian³ - A version of the game Galaxian³ for 28 players. Was moved to the park from the Expo '90 in Osaka.
Cyber Station - Game center.
Rapero's Market
Edit
Carnival Arcade - A fair with games and stuffed animals.
Future Coliseum - Has a type of tag game.
"The Fortune-telling Witch's Building" - A skull that answers questions. Was renovated as Wedding Judge in 1997.
Eruzu Square
Edit
Raperopter - A vehicle to travel the square.
Pirarisu's Carousel - Carousel.
Pirarisu Omikuji - Omikuji.
The Star Audition - Established in 1996.
Wonder Rally - Established in 1998.
Egg Empire Zone
Edit
Dina Yolk
Edit
Dina Shell
Edit
Drift King - Battery kart race.
Miracle Tours - Simulation theatre. Renamed Fun-house Express in 1999 when the software was changed.
Circus Plaza
Cyber Station 2 - Game center.
External links
Edit
Ad blocker interference detected!
Wikia is a free-to-use site that makes money from advertising. We have a modified experience for viewers using ad blockers

Wikia is not accessible if you've made further modifications. Remove the custom ad blocker rule(s) and the page will load as expected.