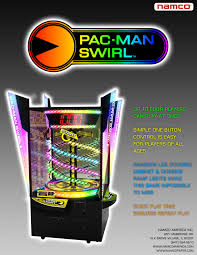 Pac-Man Swirl (パックマンの渦巻き) is a redemption game from 2013 by Namco Bandai Games. The player presses a button to launch a yellow ball down a spiraling slide. The ball will then fall into a random numbered hole on a rotating platform, in which the player will receive the number of tickets that the hole was numbered. The ball may fall in the "Big Win" hole, in which the player will win the amount of tickets displayed on the LED scoreboard, which can be adjusted by the operator.
Ad blocker interference detected!
Wikia is a free-to-use site that makes money from advertising. We have a modified experience for viewers using ad blockers

Wikia is not accessible if you've made further modifications. Remove the custom ad blocker rule(s) and the page will load as expected.